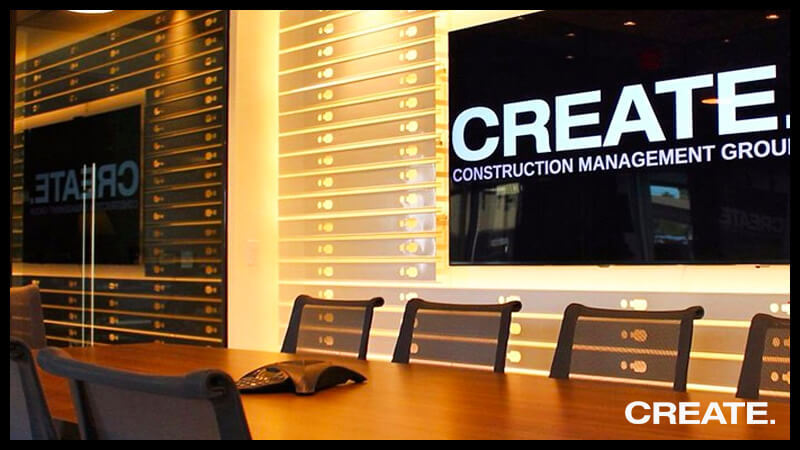 With over 30 years of experience, the team at CREATE. Construction Management Group is confident that we will meet and exceed your building needs. In this highly competitive market, we pledge a customer-centered approach to service from conception to completion and beyond. The CREATE. team is built on a fundamental value system of customer commitment, fiscal responsibility, integrity, and reliability in all of our practices & honest and clear communication throughout the entire process (if it isn't written, it isn't true).
With a commitment to these values and a mission to foster a community of top industry professionals with a passion for solid construction, scrupulous craftsmanship, and compelling design, CREATE. delivers an incomparable value and outstanding commercial spaces.
Westside Medical
Dr. Adriano
Chaparral Cardio Diagnostics
Satori Medical
Fen-Vet Clinic
MacEwan Clinic
Staniloff Mission Dental expansion
Massage Addict
Bri-mor Nexoptic
Versa Movement Collective
South Calgary Endodontics Clinic
Northwest Health Care Facilities – Foothills
Northwest Health Care Facilities – Rockyview
Northwest Health Care Facilities – Sunridge
Northwest Health Care Facilities – Riley Park
Primary Care Network
U of C Medicine Teaching Centre
Mantra Wellness
Dr. Anand – Ophthalmologist
Seema Eye Care
Dr. Scholton – Chiropractic
Prime Care (Dr. William Wu Family Practice)
McKenzie Towne Family Practice
Foothills Primary Care Network Calgary
Foothills Primary Care Network Cochrane
Foothills Primary Care Network Mosaic
Dr. Wagner/ Dr. Leo – Family/ OBGYN
Canadian Decompression & Pain Centre
Cord Blood Inception Services
Ladybug Pediatrics
Dr. Burgess – Dental
Mckenzie Towne Medical (Dr. Tung)
Bioscript Pharmacy
Dr.Kuzyk & Dr. Hauck Office
Oakridge Panther Sports Medicine
Dr. Hamilton's Office
RANA Respiratory Care Group
Alberta Cancer Foundation
Arnika Medical Centre
ReNue Airdrie
ReNue Gulf Canada Square
ReNue Seton
Tower Physio
Jade Health
Canadian Surgery Solutions Riley Park
Wellpoint Medical
Chaparral Remedy RX
Myosymmetries - Suite 101 at RVHC I
PCN Mosaic MDT Clinic
PCN Mosaic Women's Clinic
Dr Iwanicki Clinic
Dr. Churcher Clinic
Westwinds PCN Mosaic
Chaparral Physio and Massage
Rana Dalhousie Location
Suite 218 – Dr. Murphy
Suite 404 – Bayshore
PCN Mosaic Clinic (17 Avenue SE)
Bioscript Pharmacy
Suite 560 Marlborough Professional
Skin Possible
SCPCN (Chaparral )
Rockyview Health Corridor
Dr. Nabil Elkabir
Sunridge Lobby
Medicine Shoppe – LL
Riley Park PCN (Suite 140)
Primary Care Clinic
Suite 302 RVHC I
Dr. Anand
Suite 412 Sundridge
Mackenzie Medical
Suite 412 Sunridge
Trico Centre SCPCN Soundmasking
PCN Suite 560 Marlborough Mall
Rockyview Health
Dr. Nabil
Sundridge
Versa MC
AEON Future Health
Harmony Health
University of Calgary Transcription Services
MEDICAL PROJECTS
Full Service Solutions
CREATE. offers a full spectrum of strategies and services to facilitate success at any stage of the construction process. With solutions for land acquisition, lease review, project and construction management, architectural and design services, commercial development, and more, we are qualified to provide assistance from project conception to completion or for any phase along the way.
Contact us for a free consultation on your project.
Retail & Hospitality Projects
RETAIL
Mona Lisa Extension
Guitarworks
Inside Furniture
Triple Flip – Children's Clothing Store
Lightform – Architectural Lighting Store
Krystal Kutting Room – Hair Salon
Vision Eye Care
Purr Retail
Solo Liquor
Digicopy Print Centre
Fujitec – Warehouse/ Office
Grey Eagle Casino – High Limit Room
Hedkandi Salon on 8th Street
Hedkandi Bankers Hall
Form Hair Studio
Great Clips (East Westhills)
Medicine Shoppe
Sunnyside Cider
Peak Cannabis
Butter Beauty Bar
HOSPITALITY
Rocky Mountain Wine and Spirits
Three Bears Restaurant-Banff
CRAFT Beer Market, Southcentre Mall
CRAFT Beer Market, 10th Avenue
XO Ice Cream
Major Tom Restaurant
Two Penny Restaurant
Humble Pie
Waalflower Restaurant
Sunny Cider
OEB Bridgeland
Ox & Angela
UNA Pizza + Wine, Bridgeland
UNA Pizza + Wine, Banff
UNA Pizza + Wine, West 85th
UNA Take Away
HARO
Ajasai Cranston
Ajasai Panorama
Boston Pizza, Chinook Mall
Bluphin
Redwater Grill North
Redwater Grill Bow Valley
Kids & Company Catering
Potential Place
Riley Park Cafe
Stockyards Saloon
Delta Bow Valley
Tangerine Restaurant
Tony Roma's Restaurant
Flames Saddleroom
Colonial Fusion
Metropolitan Grill on 8th
Fratello Coffee Roasters
Corbeaux Bakehouse
Starbucks, Mountain Side Village
Starbucks, McKnight & Aviation
Kassandra's Kitchen, Lethbridge
Alley Opps Nightclub, Lethbridge
Billy McIntyre's Cattle Company, Lethbridge/Calgary
The Keg, Lethbridge
The Keg, Red Deer
King William's Pub, Lethbridge
Rivercity Chophouse, Edmonton
Ironbridge Restaurant, Edmonton
Rivo, Edmonton
Overtime, Edmonton
Mynt Ultralounge
Rendesvouz, Courtyard by Marriott, Calgary South
Lucky Liquor Lounge
The Muse
Brewsters
Specific Gravity
Tony Roma's
Trolley 5. Brew Co.
OEB Breakfast Co., Bridgeland, DT, Edmonton Tr.
Mango Mania
Le Royale
Earls – Westhills
Native Tongues Taqueria
Mango Mania
Our Daily Brett
The Plaza Theatre
Chairman's Steakhouse, Westman Village
Serving Our Community
The team at CREATE. supports the fight to end cancer. The Ride To Conquer Cancer is an epic 2- day, 200km bike riding event with thousands of participants from across Canada and around the world. With the support of the CREATE. team, our President, Allen Clayton, rides to call attention to this important cause and to support the valuable research of the Princess Margaret Cancer Centre. Contact us to lend your support.
Corporate & Other Projects
CORPORATE INTERIORS
Western Energy
Q Max Solutions
National Oilwell Varco
JOG Capital
Amarone Oil & Gas
Orange Directional
TVI Pacific
Alcatel Lucent
Fraser Mackenzie
National Bank
Persta Resources
Flexpipe Systems
Grand Lion Investments
227 – 10 Street: 3-Storey Office (CREATE.)
Centum Micasa Mortgage
Primary Care Network
NOV Wilson
DenStar Holding LTD
Maurice Law Office
Ayrshire Office
LPi Group Office
Emerson Lane Commercial Centre Restoration
Convergent Information Systems
Fortaleza
National Bank Transit 1405 – 1
National Bank Transit – 0559 – 1 Calgary
GBE office
CREATE Office
OTHER
Chestermere Storage
Dufferin Storage
Dufferin Car Wash
Caleo Health
C3 Energy. Ideas. Change
Webber Academy
Northwest Health Care Facilities – Rockyview
Northwest Health Care Facilities – Sunridge
Northwest Health Care Facilities – Riley Park
Jade Health Clinic
Wellpoint Medical
ISIS Women's Clinic
Chaparral Valley Square
South Calgary Endodontics Clinic
Webber Academy Buss Barns
Morin Music School
The Studio School of Dance
Village at West Springs , Stair Replacement
Just fur kids
Webber Courtyard Awning
Rockyview Garage
Webber Academy Courtyard
Great White Truck and Car Wash
Bluebird Self-Storage Calgary
Store and More Storage
Big Sky Fitness
Kidzwork Daycare
Cooperators Insurance
Aspen Hill Montessori School
WinSport NSS Classroom

Our reputation is built on providing superior solutions for commercial construction. We deliver on time and within budget for every project regardless of scope and scale with a client-focused model. Our exceptional team of construction executives, project and construction managers, estimators, designers, and architects are ready for your next project.
A Reputation for Excellence in Construction
The CREATE. team and network of industry leaders are committed to delivering beautiful and functional spaces. We have earned recognition as one of the most trusted and reliable construction management companies in Calgary and across Canada, providing services for all types of commercial construction projects. Connect with us for your free project consultation.