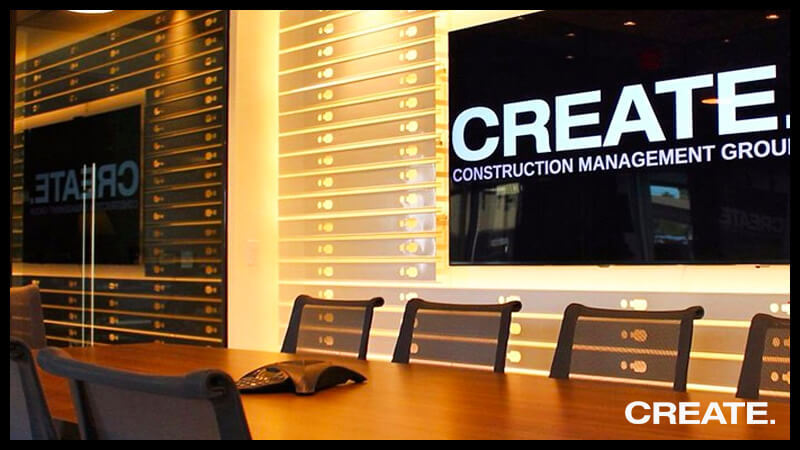 With over 30 years of experience, the team at CREATE. Construction Management Group is confident that we will meet and exceed your building needs. In this highly competitive market, we pledge a customer-centered approach to service from conception to completion and beyond. The CREATE. team is built on a fundamental value system of customer commitment, fiscal responsibility, integrity, and reliability in all of our practices & honest and clear communication throughout the entire process (if it isn't written, it isn't true).
With a commitment to these values and a mission to foster a community of top industry professionals with a passion for solid construction, scrupulous craftsmanship, and compelling design, CREATE. delivers an incomparable value and outstanding commercial spaces.
Founded more than 20 years ago by Bart Hribar and Allen Clayton from a shared passion for building innovative projects with a customer-focused approach, CREATE. strives to be an industry leader in designing and developing envious spaces for business in Calgary and across Canada. This dynamic duo has grown into a formidable threesome with the addition of Jim Madden to our leadership team over 15 years ago. Teamwork is central to how we conduct business, and we define our team as including our core staff, our skilled workforce, our industry partners of construction specialists, and of course, our customers, their staff, and the communities they serve. Among the values of teamwork, integrity, and innovation, CREATE. has a steadfast and unwavering commitment to the safety and health of all our clients, employees, contractors, and the general public. Under our leadership team the CREATE. the mission has been refined and has evolved to firmly encompass:
A clean and safe job site to protect all of our employees.
A keen awareness of safety matters and the importance of safe working practices among our employees and contractors.
Procedures for recognizing, preventing, and reporting unsafe working conditions, accidents, and violence in the workplace.
A consistently safe workplace environment.
And to:
Comply with all:
Occupational health and safety regulations.
Applicable government regulations.
Accepted industry practices.
Prior to the initiation of any construction project, our team completes a full hazard assessment to ensure that the site conditions allow for safe implementation. Our team is highly trained to work and abide by all provincial and occupational health safety acts, guidelines, and regulations.
** CREATE. is fully insured and bondable.
We carry sufficient insurance to satisfy all and any project needs
and our flexible bonding limits are capable of meeting all your construction requirements**
Full Service Solutions
CREATE. offers a full spectrum of strategies and services to facilitate success at any stage of the construction process. With solutions for land acquisition, lease review, project and construction management, architectural and design services, commercial development, and more, we are qualified to provide assistance from project conception to completion or for any phase along the way.
Contact us for a free consultation on your project.
We promise the same diligence and professional conduct for every CREATE. project. No project is too small, no client too insignificant for us to commit to the level of service we stake our reputation on. When you partner with CREATE. for your project of any size, in any sector we promise you:
Reliability: We get the project done right. We find the most effective and suitable team of professionals that match directly to your needs to construct your ideal space. We know and understand the difference between finding the best designer, architect, and electrical consultant, for a hair salon versus a medical center. We have strong industry relationships and experience in building a custom team to get your project done right.
Honesty: It is not the best policy; it is the only policy. We are transparent in our communication, our project implementation, and our reporting. We are responsive. Through years of building integrity in our reputation and trust with our clients, we have cultivated an environment of honesty. This extends to the strong relationships we have built with our industry partners and our network of talent and resources. We do what we say we will do, and our clients and all project stakeholders know they can trust us.
Accountability: We meet scheduled deadlines. We streamline processes. We problem-solve. We deliver what we promise. Our extensive portfolio of successfully completed projects is a testament to our ability to manage projects efficiently and effectively, keeping pace with projected timelines and remaining within budget.
Our modem operandi is Casual Intensity… our past client and industry partners know that we are extremely passionate about actualizing beautiful, functional, and most desirable spaces for every client. We care a lot and this is apparent by our attention to detail, our commitment to a great customer experience, our thoughtfully cultivated network of industry partners, and our innovative processes. But we also strive to be approachable, connected, flexible, and adaptable. Our Casual Intensity allows us to be focused and fervent as we advocate for you, and unpretentious and unflappable as we take this journey together.
Serving Our Community
The team at CREATE. supports the fight to end cancer. The Ride To Conquer Cancer is an epic 2- day, 200km bike riding event with thousands of participants from across Canada and around the world. With the support of the CREATE. team, our President, Allen Clayton, rides to call attention to this important cause and to support the valuable research of the Princess Margaret Cancer Centre. Contact us to lend your support.
The team at CREATE. is built on a foundation of passion for construction and design and the shared values of reliability, honesty, and accountability. Our mission is to deliver outstanding commercial spaces that function perfectly and reflect the unique identity and character of every client we partner with. Our success metrics are amazing projects and satisfied clients. Our team is your team and together we CREATE. commercial builds that meet your needs today and your goals for the future. Connect with us, we look forward to the opportunity to CREATE. with you.

Our reputation is built on providing superior solutions for commercial construction. We deliver on time and within budget for every project regardless of scope and scale with a client-focused model. Our exceptional team of construction executives, project and construction managers, estimators, designers, and architects are ready for your next project.
A Reputation for Excellence in Construction
The CREATE. team and network of industry leaders are committed to delivering beautiful and functional spaces. We have earned recognition as one of the most trusted and reliable construction management companies in Calgary and across Canada, providing services for all types of commercial construction projects. Connect with us for your free project consultation.