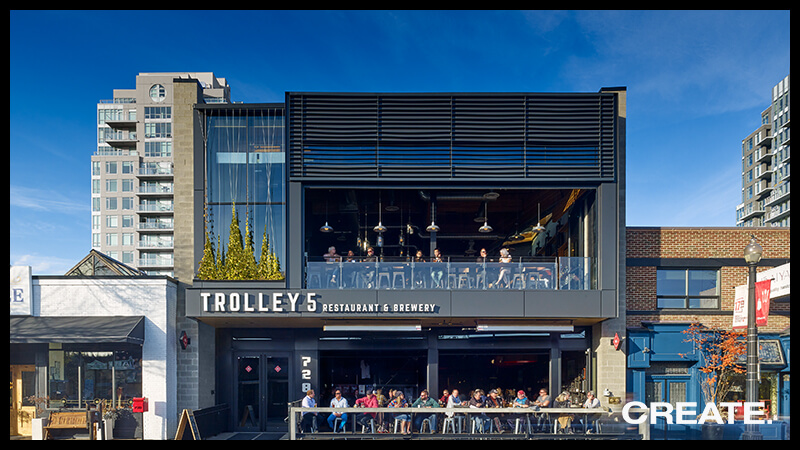 Is it time to consider a new space for your business? There are some very important considerations. Your space needs to function for your staff and your customers. Your space needs to adhere to bylaws and building codes. Your location will dictate the construction scope possible. And just as you run your business thoughtfully with an eye to efficiency, your project budget is crucial. Whether you are a new business seeking to create the perfect space to launch your new company, an established business on the verge of significant growth, or an innovative business ready to redesign yourself and try something new, CREATE. has the solution to support your business in the next phase of its success.
At CREATE. we vow to be your hands-on partner in Commercial Building; working side-by-side with you every step of the way. From the conception phase through to project completion, we are committed to providing an incomparable client experience and delivering spaces beyond expectations.
Some of our services include:
Commercial Construction - Our team has successfully executed all types of commercial construction in various markets and across many scopes. From hospitality and health/wellness projects to the new construction of corporate offices, educational centres, and retail stores, we are fully committed to guiding you through the many stages of commercial construction. We will ensure that all your aesthetic goals and functional objectives are exceeded.
Commercial Renovation - Through our projects in Calgary and across Canada, CREATE. has established a reputation for producing innovative and well-executed interior and exterior renovations for various commercial buildings. Using tried and true building techniques and the most advanced technologies, we will develop a unique renovation strategy for your commercial space. A CREATE. renovation can improve your customer experience, your ambiance, foot traffic, and workforce productivity, growing your business beyond expectation.
Commercial General Contractors - CREATE. leverages our carefully cultivated industry relationships, built on years of character and trust, to deliver outstanding workmanship at competitive rates. We have an unrivaled commitment to the project process providing accountable leadership, the most skilled workforce, and expert craftsmanship while never compromising project integrity or the safety of our clients, their employees, and the general public.
Full Service Solutions
CREATE. offers a full spectrum of strategies and services to facilitate success at any stage of the construction process. With solutions for land acquisition, lease review, project and construction management, architectural and design services, commercial development, and more, we are qualified to provide assistance from project conception to completion or for any phase along the way.
Contact us for a free consultation on your project.
If you are planning a building project our CREATE. team can assess your goals, budget, and schedule flexibility and provide the insight and knowledge to help determine whether commercial renovation or new construction is right for you. Here are some general guidelines to help you determine which option might be best for your business:
BUILD NEW IF:
You want to increase the size of your space or build a large extension. In this case, the best choice may be to knock it down and rebuild, or build on a new site.
Your building has known problems such as poor electric wiring, termite infestation, or outdated plumbing. The cost of mitigating these often exceeds the cost of starting new.
You want to complete your project on a tighter schedule without the general hassles of a renovation. Distracting noises, construction dust, and day-to-day interruptions to your business workflow can make your operations during renovation difficult. New construction can be faster.
You want a more predictable schedule and budget. When building new, the costs and timing are usually more manageable.
RENOVATE IF:
You have a more flexible budget. Depending on certain building characteristics such as age and damage, you could face several unexpected costs. However, if the work is mostly cosmetic, a renovation can be a great choice.
Your existing building has a strong and solid foundation with few structural concerns. A refresh may be all you need.
You need to maintain your company's operations. A strategically planned renovation allows you to continue with business while the project is being completed.
You have a more flexible budget and schedule. Commercial renovations may come with unanticipated costs and unforeseen renovation challenges could impact the timelines of your project.
Whether you opt for new construction or to renovate, we will ensure that we build a team of managers, contractors, and skilled labour to optimize your budget and deliver the best possible outcomes for your project.
The Benefits of a CREATE. General Contractor
When undertaking any kind of commercial building project, whatever the scale, the most effective way to ensure that your project is delivered on time and on budget, safely, and with the highest standards of quality is to hire a general contractor. Besides ensuring the work is done quickly and efficiently, a general contractor:
Can make larger, complex projects more manageable.
Will save you money.
Assumes the majority of the construction responsibility, relieving you of a significant burden.
Ensures your project moves quickly from stage to stage.
Has experience coordinating the different aspects of a project (including where to get building permits and understands issues of insurance/licensing/bonding).
Comes with insurance, protecting you from any liability during the construction process.
Serving Our Community
The team at CREATE. supports the fight to end cancer. The Ride To Conquer Cancer is an epic 2- day, 200km bike riding event with thousands of participants from across Canada and around the world. With the support of the CREATE. team, our President, Allen Clayton, rides to call attention to this important cause and to support the valuable research of the Princess Margaret Cancer Centre. Contact us to lend your support.
At CREATE., we build custom strategies for each initiative, always advocating for our clients and striving for optimal project outcomes. As a construction management company, we aim to deliver an elevated customer experience, great value, and beautiful spaces. To accomplish this, we employ our own labor force, allowing us to:
Maintain full control over the quality of your project.
Keep project costs down.
Give you a unique, functional space that reflects the vision and the values of your business.
To learn more about our commercial construction services, book a consultation, or discover how we can help ensure the speed, value, and flexibility of your next construction project, call our office today at 403.244.9030.

Our reputation is built on providing superior solutions for commercial construction. We deliver on time and within budget for every project regardless of scope and scale with a client-focused model. Our exceptional team of construction executives, project and construction managers, estimators, designers, and architects are ready for your next project.
A Reputation for Excellence in Construction
The CREATE. team and network of industry leaders are committed to delivering beautiful and functional spaces. We have earned recognition as one of the most trusted and reliable construction management companies in Calgary and across Canada, providing services for all types of commercial construction projects. Connect with us for your free project consultation.