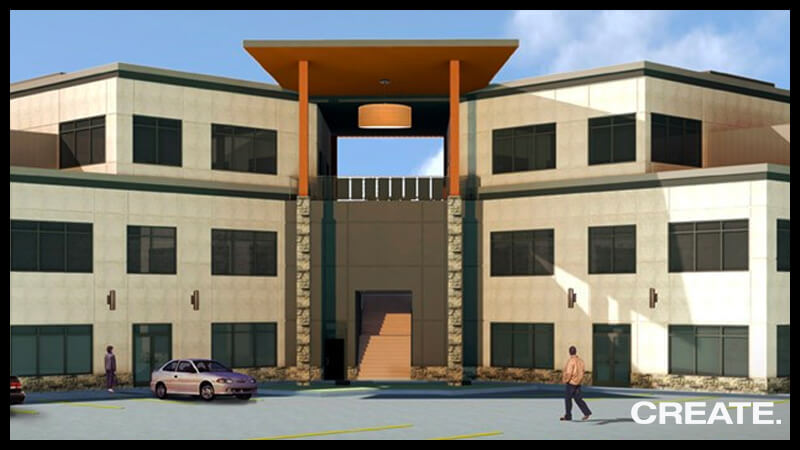 The team at CREATE. is committed to surpassing our clients' expectations and we leverage our robust network and intelligently curated team of allied industry partners to assemble a completely bespoke, full-service construction team that will deliver the most integrated and sophisticated building and design solutions tailored exactly for your project. Through this network, we offer a variety of consulting services to efficiently move a project through concept, delivery, completion, and close-out. If you are seeking analysis of your project and guidance to assemble the most talented and suitable roster for your entire project or any component of it, CREATE. can deliver. Whether you require the services of just one remarkable construction professional or a crew of design or engineering specialists we have cultivated robust connections to access the country's most talented.
At CREATE., we take pride in our ability to provide our clients with a full suite of superior consulting solutions that can be completely customized for every construction project. These include:
Engineering Consulting
We contract the services of the most highly-trained and skilled consulting engineers, with experience and measurable successes helping our clients plan, design, and supervise project construction across a variety of projects. Engineering consultants are essential to any construction team as they are qualified to:
Conduct a feasibility study - By examining project reports, cost estimates, and financial reliability of your project, an engineering consultant will be able to determine its viability.
Prepare contract documents.
Provide efficient solutions to specific structural problems such as persistent dampness, lack of lighting, or flooding.
Provide on-site supervision.
Advise on repair, alteration, and maintenance of an existing structure.
Offer advice on interrelated matters such as equipment selection (of such things as elevators and electrical/water supply work).
Architectural Design Consulting
We partner with the industry's top architectural design talent. Architects are involved in more than just building design. Their role is imperative at every stage of construction, from the initial concept to the end product. Apart from being responsible for overseeing your entire project, an architect is able to:
Work closely with clients to learn their specific objectives, budgets, and project requirements.
Design, plan, and develop - Architects plan creative building design solutions for your individual needs. This often involves master planning and project management.
Provide expertise and knowledge regarding building codes, fire regulations, and zoning laws during design planning.
Reduce building costs, decrease your home's energy needs, and increase its future resale value through good design.
Interior Design Consulting
Whether you need help getting started on a project, have a design dilemma, or want a complete interior renovation, our design consultant partners can help. With a wealth of experience in construction practices, timelines, and budgets, our consultants are accustomed to collaborative relationships and can help you realize your vision for your space. They are professionally trained to create functional and aesthetically pleasing interior spaces through various services such as:
Client consultations to determine project goals & objectives.
Providing suggestions for the functional and aesthetic possibilities of the space.
Creating illustrations and renderings.
Monitoring and managing the installation of the design.
Selecting and purchasing fixtures, furniture, and other materials.
Organizing a space to suit your business's function and flow.
To learn more about our individual consulting service partnerships or how our professionals are able to work collaboratively within a team to provide you with highly functional and aesthetically pleasing commercial spaces, contact our office today at 403.244.9030 or visit.

Our reputation is built on providing superior solutions for commercial construction. We deliver on time and within budget for every project regardless of scope and scale with a client-focused model. Our exceptional team of construction executives, project and construction managers, estimators, designers, and architects are ready for your next project.
A Reputation for Excellence in Construction
The CREATE. team and network of industry leaders are committed to delivering beautiful and functional spaces. We have earned recognition as one of the most trusted and reliable construction management companies in Calgary and across Canada, providing services for all types of commercial construction projects. Connect with us for your free project consultation.