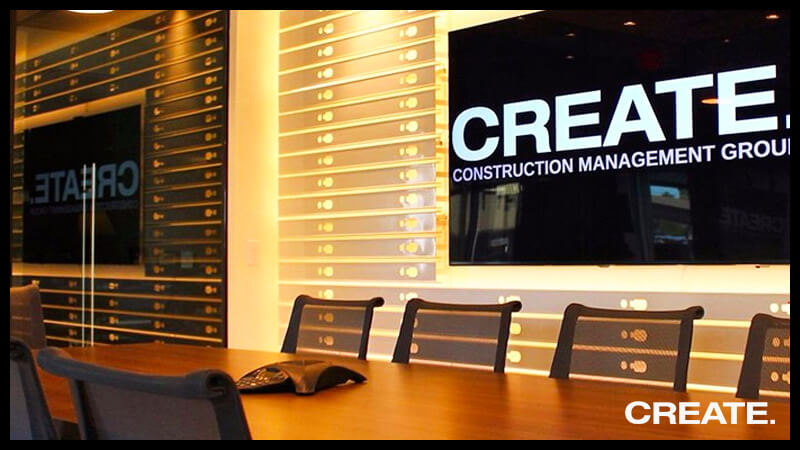 CREATE. Project Management Services are tailored to your project scope through our envisioning sessions. Our knowledgeable and experienced project managers (PMs) can ensure the success of your construction project with meticulous oversight and careful analysis of the process from start to finish or at any phase along the way. We are skilled at project administration and managing every stage of development. We can lead a construction team to comprehend the scope and focus on each phase of the process. Leveraging CREATE. project management services provide clear direction and strict accountability to ensure your project is delivered on time and on budget.
The Measure of Great Project Management
The scope of a construction project can be very elaborate and complex. The best way to mitigate the risks and optimize the outcomes of your construction project is to create a team of top-level professionals and skilled labourers guided by proficient and experienced project management. Some of the key responsibilities of a CREATE. project management team are:
Outline the Project Scope: the PM will maximize outcomes by defining the scope, roles, tasks, budgets, deliverables, and markers of success.
Build a Solid Team: the PM will have a carefully cultivated network of the industry's top management and labour talent to assemble a team that can deliver.
Facilitate Team Collaboration: Representing the project owner, the PM will ensure transparent and effective communication between all stakeholders.
Streamline the Process: the PM will monitor project flow and improve the process with innovative strategies for efficiency. Scheduling and reporting are vital components of continued efficiency.
Budget Management: the PM will introduce cost-saving solutions while ensuring adherence to the highest standards of quality and craftsmanship.
Commitment to the Process and Diligent Perseverance: a great PM will understand the value of a proven and reliable process and have the resilience to see a project through to completion.
Connect with our team at CREATE. to explore our past Project Management success and to explore how a partnership with our team can provide outstanding management solutions for your next project. Call us at 403.244.9030.

Our reputation is built on providing superior solutions for commercial construction. We deliver on time and within budget for every project regardless of scope and scale with a client-focused model. Our exceptional team of construction executives, project and construction managers, estimators, designers, and architects are ready for your next project.
A Reputation for Excellence in Construction
The CREATE. team and network of industry leaders are committed to delivering beautiful and functional spaces. We have earned recognition as one of the most trusted and reliable construction management companies in Calgary and across Canada, providing services for all types of commercial construction projects. Connect with us for your free project consultation.